Hospitality is back. Spring and summer are right around the corner and your customer couldn't be more ready to get out of the house. How are you going to convince that starry-eyed, travel-hungry, fun-loving customer that you have the place to be? Consider using 3D interior rendering!
3D interior rendering with Sonny & Ash is a streamlined, feedback-based process that can push your company to the forefront of the competition. How?
With a focus on Speed, Attention to Detail, and the Ability to Explore.
Speed
Sonny + Ash's streamlined system allows you to work with our talented artists to create a 3D Interior Rendering that perfectly displays your stunning space. Instead of wasting time with a finicky photoshoot and the difficulties that can arise with one, focus on creating a 3D Interior Rendering that truly shows off the shining details of your space. Check out this article to learn more about this.
Attention to Detail:
It's time to take your comprehensive plans and transform them into a beautifully-detailed rendering that highlights what makes your space so special. Have a gorgeous view? Beautiful artwork? Comfy beds? Spotless amenities? Show eager customers why they should choose you.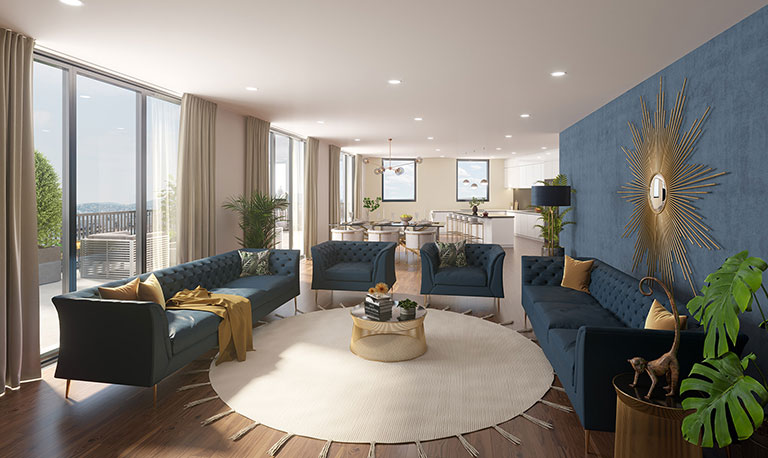 Ability to Explore
A simple picture is just a surface-level look into your space. A better choice is to use 3D Interior rendering and Virtual Reality; your customer can fully appreciate all you have to offer. They can get a full look into your amazing space and get the feel by virtually walking around. It is an enticing customer experience to be able to fully explore a room. They can scout out their favorite parts of it before purchasing and this will place you high above your competitors.
Utilize the Speed, Attention to Detail, and Ability to Explore of a Sonny + Ash 3D Rendering to put you over your competitors!